Work's New Age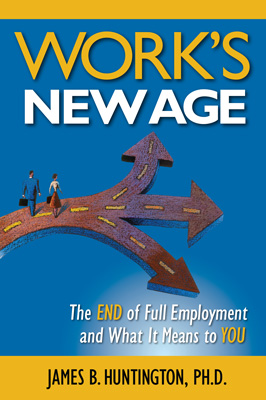 WORK'S NEW AGE
The End of Full Employment and What It Means to You
"The jobs crisis is PERMANENT, and will NOT go away with better economic times"
Mouse over the Work's New Age tab on the left for additional pages

---

Over 140 public appearances!
---
WORK'S NEW AGE IN THE NEWSPAPER!

http://www.sc-democrat.com/news/2012January/03/news2.htm
---

 MP3s, Podcasts, and Radio Transcripts!  Listen any time.  Access all on their page.
---
Articles related to Work's New Age!  Published since the book was written.  See the Related Articles page.
 ---
WORK'S NEW AGE is AVAILABLE ON AMAZON AND BARNES & NOBLE, IN PAPER, KINDLE, AND NOOK VERSIONS  
 
Amazon - Paperback or Kindle:  http://www.amazon.com/Works-New-Age-Employment-Means/dp/0983500630/ref=sr_1_3?s=books&ie=UTF8&qid=1312042955&sr=1-3
Barnes & Noble - Paperback:  http://www.barnesandnoble.com/w/works-new-age-james-huntington/1030638453?ean=9780983500636&itm=1&usri=work27s%2bnew%2bage
 Barnes & Noble - Nook:  http://www.barnesandnoble.com/w/works-new-age-james-huntington/1111523386?ean=9780983500650
It can also be obtained at your local bookstore (either on the shelves or by special order), or from the Orders page on this site